Locallisation
come raggiungerci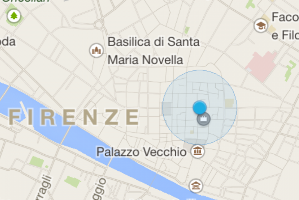 Bed and Breakfast Cimatori est situé dans le coeur du centre historique de Florence, entre le Duomo et la Galerie des Offices.
Nous vous suggérons de prendre un taxi, (environ 10,00 euros) ou le bus électrique C2, qui de la gare s'arrête juste en face de nous.Si vous décidez de marcher de la gare centrale vous devez aller dans la rue Panzani et puis rue de Cerretani. À la droite de la cathédrale, vous trouverez la rue de Calzaiuoli , marcher le long de la rue est puis a gauche dan la rue de Tavolini . Pui vous serez dal la petit place que s'appelle 'Cimatori' et au numéro 14, vous verrez le signe 'Cimatori Guest House'.
Nous sommes à 8 km de l'aéroport de Florence ; vous pouvez utiliser le bus pour aller à la gare centrale ou vous pouvez prendre un taxi directement à le B&B l'(taux fixé à 20,00 euros de plus '1 euro par bagage).
Nous suggérons le parking suivantes
'We suggest you the following parkings:

GARAGE BARGELLO Centrally located – 5 minutes walking from the B&B
Locaded in Via Ghibellina 170 Red (gps address via ghibellina 117) - phone +39 055 238 1857
It costs 30.00 euro /day (except minivan o luxury cars)

GARAGE MICHELANGELO Centrally located – 10 minutes walking from the B&B
Located in Via Ricasoli 28/a – phone +39 055 239 9126
It's 10 minutes walking from the B&B and i costs 30.00 euro/day (except minivan o luxury cars)
Le centre historique de Florence est un espace piétons ou zone à trafic limité e il pourrait être très difficile d'atteindre le parking, même si vous avez un système de navigation .